---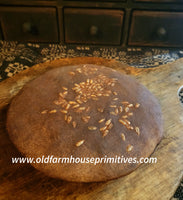 #TLPC1 Primitive Round "Pantry Cake"
Regular price $21.99
Inventory:
0
This faux "Pantry Cake" smells wonderful!  It has spices baked into it and truly looks like it just came from a primitive Hearth oven. Each "cake" is baked with love & has it's own unique look. Measures approximately 7.5 inches in diameter. Shown with Item #BB003, SOLD SEPARATELY.