---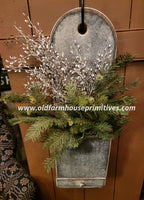 #BW42-FW Farmhouse White Door Box with Drawer - MADE IN USA!
Regular price $59.99
Inventory:
1
This Door Box with Drawer has a primitive painted finish. It measures 23 inches tall x 7 inches wide & 3.5 inches deep. Nice & narrow for a small door, hang from a pegboard or simply fill with your favorite stems & place on a table or shelf.
 STEMS SOLD SEPARATELY, shown for display purposes only.deep