---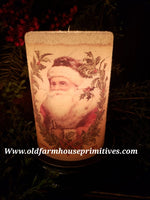 #CRDS72 Primitive Vintage Wreath "Santa Face"🎅 Gumdrop Wax Candle Sleeve (Made In USA) BACK IN STOCK!
Regular price $28.99
Inventory:
1
Handmade wax candle sleeve measures 4" wide x 6" tall. These fit over an electrified base (SOLD SEPARATELY) with a warm glow bulb. Made in USA! Makes seasonal decorating easy! Just place a sleeve on the electrified base for that amazing glow! No messy dripping wax. Great for dorm rooms and nursing homes especially!  You'll find designs for every day and every season! Made In USA! CLICK HERE to view Candle Sleeve Electric Base Holders.