---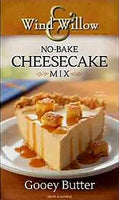 36004 Wind & Willow Gooey Butter No Bake Cheesecake Mix
Regular price $7.99
Inventory:
2
Gooey Butter No Bake Cheesecake Mix. 
The quickest way to rich and yummy cheesecake!  Combine mix with 8 oz of cream cheese and 16 oz heavy whipping cream.  Spoon into a prepared graham cracker crust or go "crust-less" for a great gluten free option.  Refrigerate until serving.  
If you grew up in the mid-west, the taste of Gooey Butter Cake is a nostalgic walk down memory lane.  But we've taken it up a notch by turning it into a cool and creamy cheesecake.  Do you feel the need to go ahead and top it with some pieces of Gooey Butter Cake for good measure?  Go right ahead.  Who can say no to more gooey and more butter?!
 * Make it dairy free by using dairy free cream cheese and dairy free heavy whipping cream!  
**For a lower fat, high protein version substitute 32 oz of plain low fat greek yogurt in place of the cream cheese and heavy cream and place it in the freezer. Remove from freezer for about 10 minutes before cutting.