---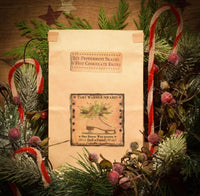 #IPSBAG "Icy Peppermint Skates & Hot Chocolate Dates" Bag of 12 Melting Tarts
Regular price $13.90
Inventory:
1
Icy Peppermint Skates & Hot Chocolate Dates is a creamy vanilla scent with a touch of natural peppermint and rich chocolate (not too much of any one of them, just perfection). 
We have packaged up 12 squares of wax tarts which is over half a pound of them! They are scented just like the candle of the same name!
They are for use in a Tart Warmer.
Its really nice to enjoy the fragrance of our candles this way with no flame, or to put them in a place in your home that you can't burn a candle but want to have some fragrance.
Each square last approx 24-36 hours, but it depends on your bulb and how bright it is, but generally, you can smell them continuously for 24-36 hours til the scent cooks out.