---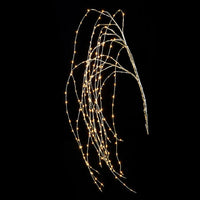 L4037020 Cascading Lighted Branch 59.5"
Regular price $44.00
Inventory:
47
 Timeless everyday home decorations and whimsical holiday designs that will give you the freedom to express yourself and create beautiful spaces that you can truly call your own. 
225 Bright White LED Lights | With Silver Branches. Indoor and Outdoor Use | 8 Hour Timer Repeats Every 16 Hours. Includes 1 DC Adapter | Lights Approx 60000 Hours. Approx 10 of Wire to Adapter. battery
59.5In cascading lighted branch.